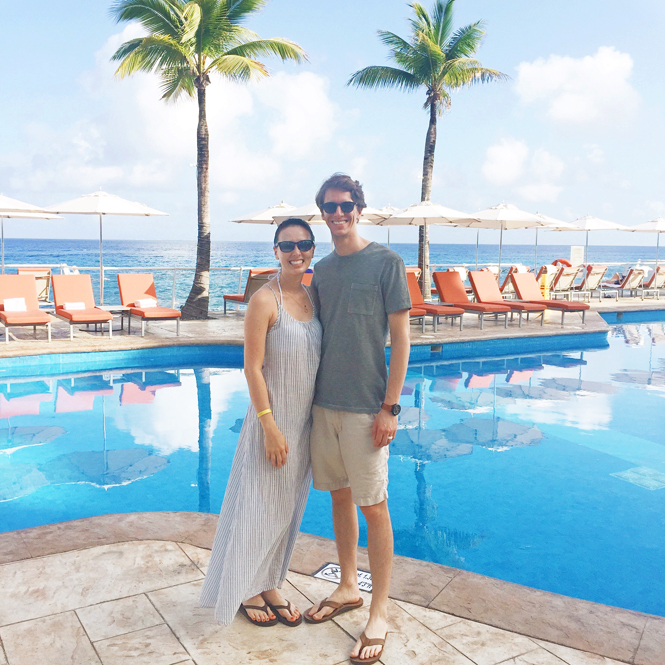 +PINWe recently jetted away to Cozumel, Mexico for a few days to celebrate Jordan's birthday a little early and get some much-needed R&R! We didn't do as much planning for this particular trip, but we found a great deal online and loved getting to just relax and enjoy being at an all-inclusive for a few days. As we flew in, we loved seeing how pretty and turquoise blue the ocean was even from way up high! 🙂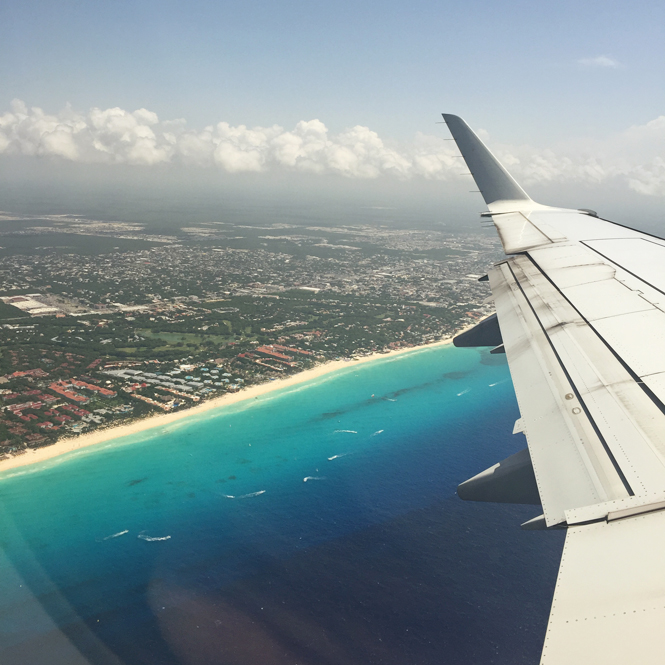 +PINWe stayed at Cozumel Palace, a wonderful all-inclusive resort, for 3 nights. Our spacious suite had a view of the ocean with a hammock (!) on our balcony, but our favorite part was definitely the jacuzzi! We even had our own liquor bottle dispensers on either side of the TV (ha!) and loved the friendly, attentive service of the staff there. We loved getting to eat/drink whatever we wanted and practice our Spanglish during our stay — would definitely recommend this resort!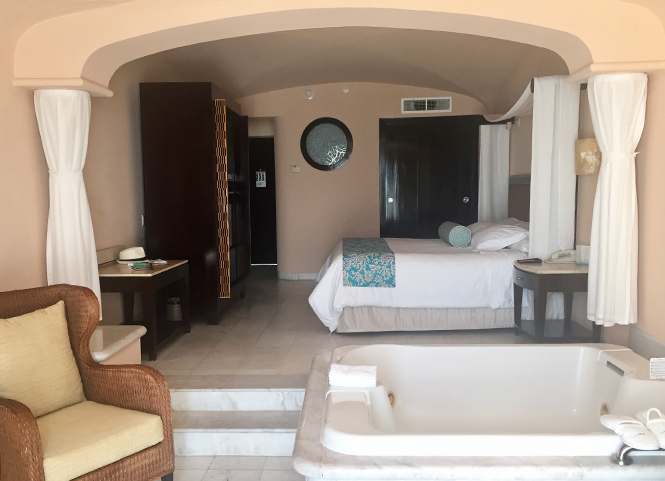 +PIN

+PINDoes it get any better than a slow, lazy morning by the ocean with mimosas in hand?!

+PINOne of our favorite activities while we were there was swimming with the dolphins for the first time! We went to Dolphinaris based on the great reviews and the fact that it was next door to our resort. 🙂 We loved the lagoon style dolphin pools and lucked out by getting a private session with our dolphin trainer! It was truly a surreal and amazing experience. We loved getting to interact with the dolphins, learning about them, swimming with them, etc. We really appreciated how much our trainer seemed to love and care for the dolphins too!
Funny story: While Jordan looked like a total stud riding on the dolphin's belly and gliding across the water, I got an explosive mouthful of water when my dolphin decided to suddenly go top speed! At least they made it up to me later with a kiss! 😉
My only complaint was that we weren't allowed to take our cameras. We just couldn't swallow paying $200+ for their "professional" photos, so sadly you can't see evidence of my hilarious/Jordan's epic dolphin ride or how adorable we looked getting kissed by the dolphins. You'll just have to use your imagination!

+PINThe next day we used our Cozumel Palace resort credits to go scuba diving! Jordan is already certified, but I've never been, so the "Discover Scuba" course sounded like a good introduction to the world of scuba to see if I'd want to get certified. Unfortunately, I couldn't understand our instructor through his thick Mexican accent, the instructional DVD kept skipping (I was terrified I missed some imperative life-or-death information), and the instructor had us skip the pool and just go straight to the ocean. I made it 8 or 10 feet below the ocean, but then the instructor wanted us to demonstrate taking out the regulator and putting it back in for the first time. Did I mention we were already 8 or 10 feet below the ocean?! Considering I was already barely keeping it together, there was NO WAY I was taking out the one thing that was keeping me alive and I promptly swam up to the surface. Maybe I'll try again one day, but in a pool first please!

+PINWe went snorkeling the next day though, which went a lot more smoothly! 🙂 We saw so many different types of fish and lucked out again by being the only ones and getting a private boat tour! Our guides made us pineapple slices, margaritas, and chips + guac after we finished snorkeling and we absolutely loved it! 

+PIN

+PINWith so many wonderful reefs to snorkel + dive at, we'd love to go back again one day but are so grateful to have had a short little getaway to forget about work and home renovation chaos for a few days!
Have you gone to any fun places this summer or have an exciting trip coming up? 🙂