We are getting close to completing the sunroom (after 3+ months!), so I thought it'd be a great time to share our sunroom design inspiration with y'all! First of all, the fact that our fixer upper came with a sunroom has been an absolute dream come true and we are so grateful – sunrooms always seemed like such a fun, southern luxury! While fixing ours up has taken quite a bit longer than we expected (as has been the theme), it has quickly become my favorite room in our house and I've had so much fun dreaming up a welcoming, restful space to escape to (ha!) and host intimate gatherings with loved ones.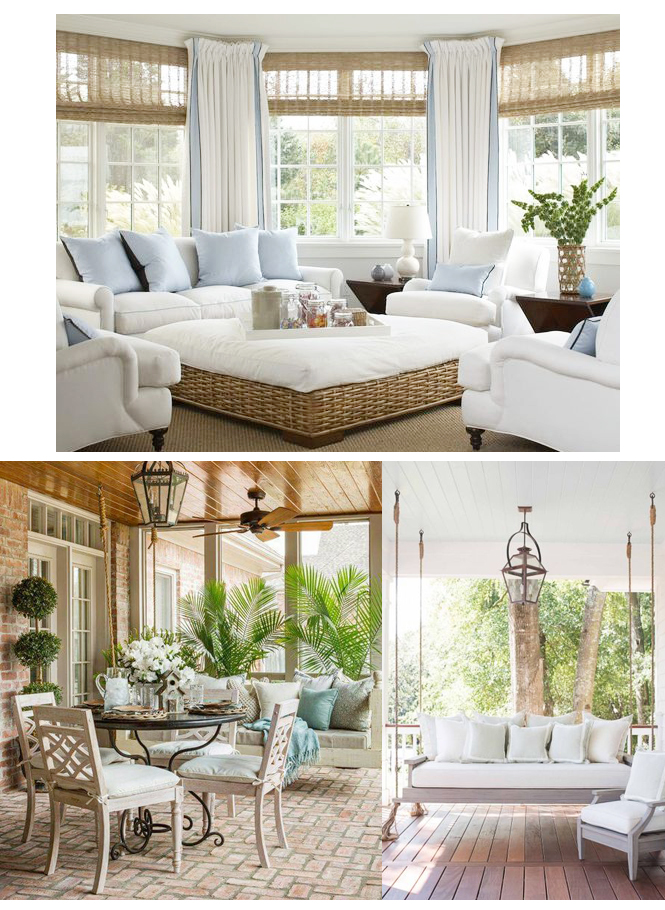 +PINSunroom Design Elements:
Cohesive design fitting the rest of the home. We installed divided light windows + decorative molded panels under the windows to match the architectural design of the rest of the house. To me, it finally just looks the way it was supposed to have looked all along. 🙂
Woven wood shades + curtains. I love the way this style of window treatments look especially in a sunroom (as seen in the top inspiration image) because it still lets in light while providing some privacy. It also has a more relaxed vibe that I think is fitting. We've opted for sheer curtains to let in even more light but still add a softness to the space and draw your eyes up!
Traditional Southern "Haint Blue" ceiling. I love that we'll have curtains drawing your eyes up to a little pop of blue on our ceiling! Not only is blue our favorite color, but I love that we can incorporate this southern tradition into our very traditional, southern home! Did you know that this widespread southern tradition brings good luck and keeps evil spirits away? 😉
Functional + inviting. When we considered how we'd want to use this space, it became clear how we should design it! We imagine drinking coffee in the mornings + having devotions, eating meals, reading, napping, hosting intimate gatherings, etc. in our sunroom. It's not a huge space, so we knew we'd need to get a smaller round table and that we'd only be able to comfortably fit 4 chairs – hence only intimate gatherings. But that was fine by us since we'll host larger groups in the dining room, backyard, etc. and that's not the primary role of the sunroom. And then that brings us to…
Swing Day Bed! Oh my stars, this just makes me giddy and so excited! I've always dreamed of having a swing day bed and I can't wait to cuddle out there with Jordan, nap, read, etc. It'll honestly make this room feel like a little retreat/getaway right within our own home, which would be such a blessing in this crazy season. (p.s. the inspiration photo on the bottom left will basically be the exact furniture layout in our sunroom!)
Lots of plants and natural elements! Overall, we will be keeping the other design elements simple to let the haint blue ceiling and pre-existing brick patio floor pop, so the walls and trim have all been painted white. But we'll be adding some pops of blue with pillows on the day bed and pops of green via lots of potted plants, since we'll get such great light in there! And we picked out some rattan chairs to bring in a bit more of the natural elements and tie in with the woven wood shades.
Can you envision it? 🙂 We still have a ways to go (caulking, cleaning the brick patio floor + windows, installing the window treatments & swing day bed, etc.) BUT we get excited when we visualize the end result! I hope it's fun and helpful to hear how we're approaching the design/remodel of our home – it is a joy to be able to share this process with you!
P.S. I'm dying to know, how do you feel about swing day beds?! It honestly took a little convincing on my part to get Jordan on board (while I obviously couldn't be more excited!), so are you pro swing day beds or no?